Welcome to FunPlacesToFly.com!
All gassed up and no place to go? We have an ever growing list of Fun Places to Fly and Aviation Events, provided by pilots like you who love aviation.
Share on:

Start receiving our weekly Newsletter about upcoming Aviation Events and Great Places to Fly that are in and around your Home State! PLUS individual emails about new Events and Great Destinations as they are added to our database, according to your favorite selected states.


The Latest Updates!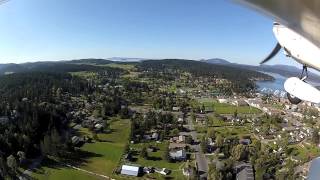 News Release - Friday Harbor Airport's New Pilot Welcome Center - FunPlacesToFly.com
Friday Harbor Airport is pleased to announce the opening of the new Pilot Welcome Center in the northeast corner of the airport next to the guest tie down area. Like many small airports, Friday Harbor Airport lacked a facility to welcome pilots to our beautiful community.


New Aviation Event - Farm Funday Fly In, Southampton, NJ - Saturday - Sunday, Apr 26-27, 2014
Antique airplanes,tractors,cars,trucks,exhibits and food . Stearman rides Available Free Camping Benefit Jack Allen Museum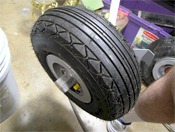 Van's Aircraft RV-9A - Installing the Landing Gear - Part 5 - FunPlacesToFly.com
Here's one of the tires, mounted on the left gear leg. I used a large crescent wrench that I bought from Lowes Home and Aircraft Supply to tighten the VA-106 wheel nut on the axle. I tightened the wheel nut to the point that the wheel wouldn't rotate easily on the axle, just to seat the rim and bearings in place. Then I backed the nut off a little, just enough to allow the tire to rotate on the axle without any notable friction.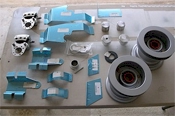 Van's Aircraft RV-9A - Installing the Landing Gear - Part 4 - FunPlacesToFly.com
Time to put the tires on the rims on my RV-9A from Van's Aircraft. Here's all parts and tools, plus some dishwashing liquid and baby powder.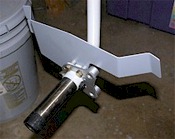 Van's Aircraft RV-9A - Installing the Landing Gear - Part 3 - FunPlacesToFly.com
I got more work done on the landing gear of the RV-9A. Thanks to some pictures posted on the Vans Air Force Forum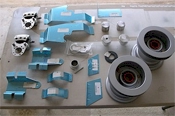 Van's Aircraft RV-9A - Installing the Landing Gear - Part 2 - FunPlacesToFly.com
Here are some of the parts that make up the brakes and the wheels of the landing gear. Some parts are self-evident as to what they are, but some aren't. Luckily I have http://www.vansairforce.com as an excellent reference for help. This website has been the main source for thousands of RV builders in the construction of this wonderful aircraft.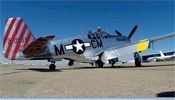 New Warbird Photos! - FunPlacesToFly.com
We went out to the Frontiers of Flight Museum to see the Collings Foundation collection of Warbirds. Below are some photos we took, along with the descriptions from the Collings Foundation website.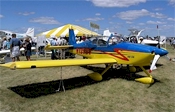 Van's Aircraft RV-9A - Installing the Landing Gear - Part 1 - FunPlacesToFly.com
I'm building an RV-9A from Van's Aircraft. It's what aircraft builders call a 'slow-build', meaning that everything comes delivered in kit form and I have assembly it. Some kits have pre-assembled sections like the fuselage or wings, but I chose to build everything myself (it's a lot cheaper that way). The RV-9A is a 2-seat all-aluminum airplane, designed to be an easy-to-fly, economical and versatile aircraft. It has an average cruise of about 180mph and only burns about 7.5 gph, with a O-320 Lycoming engine. It was designed for day-to-day flying, local trips and short cross-countries, with occasional long flights. Thanks to it's larger wings and long slotted flaps, even low time pilots find it easy to fly and land. Unlike it's sister aircraft, the RV-7A, the RV-9A it is not aerobatic. That's OK with me, since I like the contents of my stomach to stay where they are.

New Aviation Event - Fly In Breakfast/Young Eagles Rally, Lubbock, TX - Saturday, Apr 19, 2014
Free breakfast for fly ins 8-10, Young Eagle Flights 10:30-1:00


New Aviation Event - CTPT Flight Training Weekend, Fulton, NY - Friday - Sunday, May 2-4, 2014
Comanche Pilot Training Program ground school and flight training program will be held at Oswego County Airport the first weekend in May. The ground school will take place on Friday May 2. The hands on maintenance clinic will take place Saturday. Individual flight training sessions will be held Saturday afternoon and Sunday May 4th. Successful completion of the flight portion of he the weekend can be signed off as a BFR or IPC. Meals will be served at Puddle Jumpers Restaurant on the airport. See http://comanchetraining.webs.com to registration information.


New Aviation Event - Cook Out and Mayday,Mayday author, Tellico Plains, TN - Saturday, May 10, 2014
Cookout begins at 11-1pm. $5 donation. After lunch, guest speaker, Jeff Wadley, will talk about aviation accidents in the Great Smoky Mts. at 1pm. Airport frequency 122.9, runways 5/23, 3000', trees at both ends, part grass and part asphalt! Designated Private...all welcomed. Table available for 'FlyMart' items only aviation related. Monthly cookouts, 2nd Saturday, May-Oct, 11-1pm,.

New Aviation Event - Wings and Wheels, Middlefield, OH - Saturday, Jun 21, 2014
1st Fly-in/drive in of the season! Enjoy a pancake breakfast from 7-11, Young Eagle rides begin at 8 A.M. Great planes, classic cars, great FOOD!

New Aviation Event - EAA Chapter 865/Team Mini-Max Annual Fly-in Drive-in, Niles, MI - Sunday, Jun 22, 2014
EAA Chapter 865 Team Mini-Max LLC have teamed up for our annual Fly-in / Drive-in Breakfast. Demonstrations on wood fabric covering will be put on by Team Mini-Max LLC. Door Prices. Come Join the Fun!

Pilot Destination Update - Heaven's Landing, Clayton, GA
"The perfect recreational plane at the perfect recreational fly-in community! Join us for three days of flying fun and pilot camaraderie where there is always something fun to do for the entire family. Explore Heaven's Landing from the perfect aerial platform, the Air Cam! If you've never had the absolute pleasure of flying in an Air Cam, this is your golden opportunity! Spend a day, or spend the entire weekend. Either way you'll be sure to enjoy. Don't own an Air Cam? No worries! Any and all aircraft are welcome for this event. At Heaven's Landing we don't discriminate, we elaborate! Come join us for the party! : :" - Submitted by Mike Ciochetti.
Got Comments? - Got Photos?

New Pilot Destination Added - Air Classics Museum of Aviation, Sugar Grove, IL
"Air Classics is an aviation museum located at Aurora Municipal Airport - ARR where the aircraft actually fly. You can sit in an A-7 that flew in the Gulf War and climb into the pilot's seat of a UH-1 Huey helicopter. The museum's collection includes aircraft, vehicles, uniforms and other aviation memorabilia from the 1930s to the present time. General Admission: Saturday and Sunday 10:00 A.M. - 3:00 P.M. Organized Tours: Please call to make an appointment. Closed Major Holidays." - Submitted by Chuck Newell.
Got Comments?

New Aviation Event - Mansfield Airport Day, Mansfield, OH - Saturday, Jul 5, 2014
Please join us for the 5th annual Mansfield Airport Day and Car Show on Saturday July 5, 2014 from 8 to 4. Free Admission and Free Parking. Come see Aircraft Fly in, Military Civilian Aircraft displays, Car Show, Kids Area, and Exhibits. Food and Airplane rides available for purchase. Young Eagles from noon to 2pm. Come see National Guard aircraft and Red Horse construction equipment. ADS-B / Avionics program for pilots with FAA Wings credit at 0930 in the Subway. Located at Mansfield Lahm Airport KMFD, 2000 Harrington Memorial Road. For more details go to www.MansfieldAirportDay.com Rain date is Sunday July 6, 2013. Sponsored by City of Mansfield, EAA 148, and Mansfield Aviation Club.

New Aviation Event - Lest We Forget, Benton Harbor, MI - Friday - Sunday, Jun 20-22, 2014
WWII, Korean and Vietnam re-enactments. Normandy style beach landing and battle off Lake Michigan in nearby St. Joseph. Paratrooper from C47 and battle for the airport. Vietnam style Huey rescue. Weekend long event. Official fly-in Sunday morning. Young Eagle rides. Food available all weekend.


New Aviation Event - FLY-IN, ASHEBORO, NC - Saturday, Jun 7, 2014
FLY-IN FEATURING A P-51 AND OTHER AIRCRAFT AND HOT RODS, MILITARY EQUIPMENT, REINACTORS. ADMIT $5.00 FOOD VENDORS ,BOUNCIE HOUSE AND MORE...


New Aviation Event - Gratiot Airport Dawn Patrol, Alma, MI - Sunday, May 18, 2014
Pancakes, Sausage, Scrambled Eggs, Hashbrowns, OJ, Milk, Coffee Donut $7 Just coffee or Milk and Donut $3.50 Children Under 12 $4.00


New Aviation Event - Fly-in Lunch, Iron Station, NC - Saturday, Apr 26, 2014
Fly-in and enjoy a FREE hamburger / hotdog on Saturday, April 26th from 11:00am to 2:00pm.
*
Previous Updates and Fun Places To Fly - Check our Archive
Advertise with us!

| | | |
| --- | --- | --- |
| | We are proud to offer over 150 items of interest to pilots and builders of experimental and general aviation aircraft. All of them have been personally tested on our own planes to make certain that they do a great job at a great value. | |

| | | |
| --- | --- | --- |
| | The Aviation Community. That's what it's all about. Pilots helping Pilots. | |

| | | |
| --- | --- | --- |
| | RV Nation is an organization of Van's Aircraft RV and Harmon Rocket enthusiasts. Our mission is to provide the means to ...further aviation and aerospace education for outstanding students. | |
All Aviation Events and Places To Fly listed are provided by the general public. FunPlacesToFly.com and OpenAirNet Inc. shall not be held liable for false or inaccurate listings, financial loss, damages or injury. If you decide to fly your aircraft into one of the locations listed on this website, you do so at your own risk. Always call ahead to confirm any information listed and the existence of the destination or event. Any information displayed may not be accurate or current and should not be considered valid for navigation, flight planning, or for use in flight. Please consult official publications for current and correct information. Please read our Disclaimer.