Welcome to FunPlacesToFly.com!
All gassed up and no place to go? We have an ever growing list of Fun Places to Fly and Aviation Events, provided by pilots like you who love aviation.
Share on:

Receive emails about new Fun Places to Fly and Aviation Events as they are added to our database, plus a Weekend Events email. You pick the states you are interested in!
| | | |
| --- | --- | --- |
| | | |
| | | |



Do what yer' Momma said...
Go Play!

My RV-9A From Van's Aircraft - Installing the Landing Gear - Part 3



Trial fit of the U-403 Brake Mounting Flange - Left Gear Leg
You don't really have to do this, but I wanted to see how hard it is to get this flange on to the left gear leg. I had to a little oil on it to get it on. NOTE: All the entries on this page are for the left gear leg.
The Latest Updates!


New Aviation Event - EAA Skiplane Fly-In, Oshkosh, WI - Saturday, Feb 8, 2014
One of the area's most colorful events, the annual EAA Skiplane Fly-In, will be held on Saturday, February 8, at the EAA AirVenture Museum's Pioneer Airport in Oshkosh. In past years, more than 30 skiplanes landed at Pioneer Airport to participate in the event, showcasing this unique segment of flight that is quite popular throughout many parts of North America. The event begins at 10 a.m. and runs until 1:30 p.m. Most skiplanes arrive weather and runway conditions permitting mid-morning and stay until mid-afternoon. In the event weather or snow conditions do not permit aircraft arrivals at Pioneer Airport, several other activities will continue as planned, including complimentary chili and birthday cake for EAA's matriarch, Audrey Poberezny, served beginning at 10:30 a.m. The Skiplane Fly-In is free of charge to the public. Signs will direct visitors to the skiplane area upon arrival to the museum. Shuttle services will also operate from Basler Flight Service and Orion Flight Services for those landing at Wittman Regional Airport. Regular admission rates apply for guests visiting the museum itself. Pilots who wish to participate must receive approval and flight briefings from EAA prior to landing at Pioneer Airport. Contact EAA's Olivia Rasmus at 920-426-6599 or at orasmus@eaa.org for more information.


New Aviation Event - French Toast Fly In, Bennington, VT - Saturday, Jan 18, 2014
FRENCH TOAST FLY IN! At the William H. Morse State Airport in Beautiful Historical Bennington, VT. Lots of French Toast, Butter and Vermont Maple Syrup. At the world capital of Maple Syrup, Vermont!


New Aviation Event - Annual New Year's Day Fly In, Jacksonville, TX - Wednesday, Jan 1, 2014
Start the NEW YEAR right with a visit to the Annual New Year's Day Fly In sponsored by the Cherokee County Pilots Association. Enjoy ham, black eyed peas, corn bread, greens and lots of desserts. 11 AM to 1 PM. If Mother NAture gets cranky back up date is Saturday, Jan. 4th. Come and enjoy the flyin' and tall tales.


New Aviation Event - Clarence Aerodrome Ski-plane Fly-in, East Amherst, NY - Saturday, Feb 1, 2014
Ski-plane fly-in, food flying and fun! All are invited.


New Aviation Event - FREE PANCAKE BREAKFAST, Arcadia, FL - Saturday, Dec 21, 2013
FREE PANCAKE BREAKFAST to pilots that fly in and do 3 touch go's. All you can eat pancakes, sausage, O.J. coffee only $6. Helicopter rides on site as well.Come on out and support Friends of Arcadia Airport 9am-11am rain or shine

New Aviation Event - AVGAS Discount, St. Petersburg, FL - Saturday, Dec 7, 2013
AVGAS Discount! On the 1st saturday of every month, from 8-11a.m., Sheltair will offer to AWAPS members a $1.00 off per gallon discount on AVGAS. Not a AWAPS member? Join today or buy an AWAPS Pancake Breakfast at The Hangar Restaurant, on the 1st. saturday, from 8-11 a.m., to receive the $1.00 off per gallon AVGAS discount.

New Video - Some of My Favorite RV Aircraft Paint Schemes - Part 2 - YouTube - SmittysRV
Part 2 of my favorite paint schemes of RV Aircraft from all over. Enjoy! SmittysRV.com

New Aviation Event - Albert Whitted Airport Preservation Society Pancake Breakfast, St Petersburg, FL - Saturday, Dec 7, 2013
View the history of Tony Jannus and the First Airline Flight while eating breakfast. View Benoist models and enjoy conversations with local aviation historians. Enjoy pancakes served with eggs, bacon or sausage, home fries or grits, orange juice or coffee.

New Pilot Destination Added - Barnstormers Grill, Williamson, GA
"Barnstormers Grill Tuesday through Thursday 11:30 - 9:00. Friday 11:30 - 9:30 Saturday 8:00 - 9:30 Sunday Buffet 11-3. Offers dining at a Grass Field with vintage aircraft. Museum on site located in the hangar of the restaurant. Check out PeachStateAero.com" - Submitted by Brad Hatcher.
Got Comments?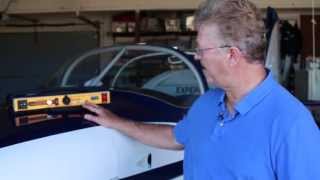 New Video - AspectSolar: Aviation Testimonial - YouTube - AspectSolarHQ
High-Capacity portable battery pack power anything from mobile phones to CPAPs to televisions, and is compact enough to fit in a suitcase. Travel the world with real portable power.

New Pilot Destination Added - Lake Charles Casinos, Lake Charles, LA
"An awesome airport long runway authentic Cajun meals for a dollar at Million Air. Three Vegas style casinos, multiple golf courses. An awesome destination for any flyer" - Submitted by Bobby Moore.
Got Comments?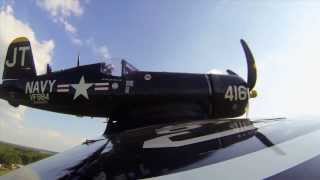 New Video - The Aviators 4: Episode 412 Teaser - YouTube - TheAviatorsTV
In this episode we (TheAviatorsTV) profile the F-4U Corsair, and Kurtis tries his hand at performing aerobatics for the first time!

Pilot Destination Update - Airport Cafe, Urbana, OH
"Great place to fly in with the air museum, a bike trail just south of the airport, and, of course, pie! http://www.aopa.org/News-and-Video/All-News/2012/June/1/Fly-Outs-Pie-please" - Submitted by Bruce.
Got Comments? - Got Photos?

New Photo Added - Pik-N-Pig BBQ, Carthage, NC
"N4797S taking off from 5NC3 after a great BBQ lunch at Pik-N-Pig, Carthage, NC." - Submitted by Jeff Sumeracki.
Got Comments? - Got Photos?

New Pilot Destination Added - Great Plains Wing of the CAF, Council Bluffs, IA
"This is the home of the Great Plains Wing of the Commemorative Air Force, P51-D Mustang Gunfighter and a military museum. Also based in our hangar is an AT-6 Texan. Work days are every Saturday except holidays from about 0800 hours until early afternoon and Thursday evenings from about 1800 hours until 2100 hours. Gunfighter's annual usually begins in November and gets finished in late winter so if you have ever wanted to see the inside of a genuine Mustang, winter is a great time to do so!" - Submitted by Jeff Hutcheson.
Got Comments?

Pilot Destination Update - Airport Cafe, Urbana, OH
"Get the pie first! It would be shame to not have room for it. We fly here often. I recommend it highly. While your there stop and see the bomber restoration in progress!" - Submitted by Dan McLaughlin.
Got Comments? - Got Photos?

New Aviation Event - Christmas Light Night Flights In WWII C47, Fort Worth, TX - Friday - Tuesday, Nov 29, 2013 - Dec 31, 2013
Groups of up to 15 passengers enjoy hot chocolate cookies before being driven out to the plane in a vintage military truck. Pilots then take guests for 40-minute flights above the DFW area in a historic Douglas C-47, a World War II-era plane. Flying at low altitudes, they will see Lake Arlington's Interlochen Christmas Lights as well as views of downtown Fort Worth. Children ages 2 and younger may fly for free in the lap of a paid adult. Passengers in wheel chairs can be helped on board. You can buy seats online or over the phone with a credit card.

New Aviation Event - Wings of Dreams Fly-In / Cruise-In Breakfast, Keystone Heights, FL - Saturday, Dec 7, 2013
Breakfast Buffet to benefit the Wings of Dreams Aviation Museum - 8 am to 10:00 am. First come, first served. $7/person - $4 for kids 9 under – Complimentary breakfast for WWII and Korean War veterans. Breakfast buffet includes: scrambled eggs, bacon, sausage, grits, biscuits, fruit, juice, coffee. "Fly into History" program – "Pearl Harbor Day Commemoration." Guided tours of museum and historic space artifacts after fly-in.

New Pilot Destination Added - Skyport Restaurant & Lounge, Scottsbluff, NE
"Great restaurant on the field. It's Nebraska...not fancy, but nice table cloths and candlelight dinners. Steaks, seafood, fish...deserts all at reasonable price. Runways are paved, long...12/30, 5/23 ILS GPS and VOR approaches. Worth the trip. Hours: Sunday - 7:00 am - 2:00 pm. Monday - Wednesday - 7:00 am - 4:00 pm. Thursday - 7:00 am - 8:00 pm. Friday - 7:00 am - 9:00 pm. Saturday - 7:00 am - 9:00 pm." - Submitted by Dennis Mosbarger.
Got Comments?


New Aviation Event - Northeast Bonanza Group-Shake Off the Frost, Lititz, PA - Saturday, Jan 18, 2014
Our speaker this year is Todd Adams, President of Lancaster Avionics. Arrive by 11:00 AM and ask the tower to direct you to the West Ramp. Take the walkway into the terminal, noting the door code on the way in. We will have lunch and the address by Todd in Fiorentinos Restaurant in the terminal.RSVP Rich Campbell include cell phone number. If the weather is deemed unfavorable, this event will be rescheduled Rain date Saturday January 25.
*
Previous Updates and Fun Places To Fly - Check our Archive
Advertise with us!

| | | |
| --- | --- | --- |
| | The PilotMall.com Pilot Shop sells over 4,000 pilot supplies at everyday low prices. | |

| | | |
| --- | --- | --- |
| | iPad Mini Mounts and Accessories. | |

| | | |
| --- | --- | --- |
| | RV Nation is an organization of Van's Aircraft RV and Harmon Rocket enthusiasts. Our mission is to provide the means to ...further aviation and aerospace education for outstanding students. | |
All Aviation Events and Places To Fly listed are provided by the general public. FunPlacesToFly.com and OpenAirNet Inc. shall not be held liable for false or inaccurate listings, financial loss, damages or injury. If you decide to fly your aircraft into one of the locations listed on this website, you do so at your own risk. Always call ahead to confirm any information listed and the existence of the destination or event. Any information displayed may not be accurate or current and should not be considered valid for navigation, flight planning, or for use in flight. Please consult official publications for current and correct information. Please read our Disclaimer.