Welcome to FunPlacesToFly.com!
Fun In Aviation! That's what it's all About! This is a website built for Pilots, by Pilots.
All gassed up and no place to go? We have an ever growing list of Fun Places to Fly and Aviation Events, provided by pilots like you who love aviation.
Building EAA Chapter Membership - Conquering the Caveman - FunPlacesToFly.com

Before I say anything about building EAA Chapter membership I have to talk about men. I'm not leaving women out because they aren't important to an organization; it's just that women don't seem have the same issues that men do when it comes to being a social animal. Women have an inherent ability to "join in" and become part of any group they show interest in.

My wife, who was a research scientist for many years, used to work with a team of Nobel Prize winning scientists, who at times, drove her nuts. Sometimes she would come home at the end the day, steaming and yelling "ARRRGH! Those MEN! They are a bunch of stubborn Neanderthals!" Although I often took offense to some of her comments, I knew it was probably best to just lay low and not throw fuel on the fire.
The Latest Aviation News, Events, Places to Fly, Videos and MORE!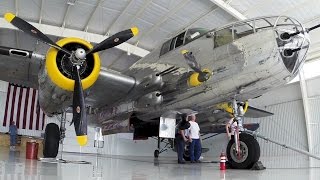 Mid America Flight Museum, Mt Pleasant, Texas - YouTube - FunPlacesToFly.com
We had a great time visiting the Mid America Flight Museum in Mt Pleasant, Texas. There are a lot of beautiful Aviation museums across the country that have their own particular mission. Mid America Flight Museum is based in Mt. Pleasant Texas (KOSA). Their museum differentiates itself from many other museums in that the great majority of the airplanes in the museum fly on a regular bases, and that ongoing projects are being restored to fly! Check out there website: http://www.midamericaflightmuseum.org/


New Aviation Event - Wings N Wheels, Miamisburg, OH - Saturday, Aug 16, 2014
Wings 'n Wheels is a fly-in, car show, and pancake breakfast fundraiser. The event features classic, antique and vintage cars, planes of all types, and motorcycles. The Lebanon Band Parents Association hosts an All-You-Can-Eat pancake breakfast at the Dayton Wright Brothers Airport, in the Commander Aero hangar. Breakfast includes pancakes, sausage, juice and coffee. Breakfast tickets can be purchased in advance at www.wingsnwheelslebanon.org. Click on 'tickets'. All proceeds benefit the Lebanon Band Program, grades 6-12. Please 'Like' us on Facebook. www.facebook.com/wingsnwheels Registration is required for the car show, and space is limited. See our website for details: www.wingsnwheelslebanon.org. Several trophies will be awarded to cars and planes. There will also be raffle items and door prizes. Door prizes will vary, and 1 ticket/chance will be given for each paid breakfast. We'd love to know you're attending! Please send an email or message on Facebook if you are attending, or for questions. Wingnwheelslebanon@gmail.com Also, the Wright Brother's Museum will be open during the event. Come and check out the Wright B Flyer!

Pilot Destination Update - Pickett House at Heritage Village, Woodville, TX
"Fly into 09R Tyler County Airport, give'em a call and they'll come pick you up. They're only about a mile from the airport. They like to get a call before you head there so they'll know your ETA... Good food, nice people, very reasonable price!" - Submitted by Dave Wingard.
Got Comments? - Got Photos?

Pilot Destination Update - EAA Chapter 1446 Monthly Fly-In, Bowstring Airport, MN
"Some of the best fly-in food you will ever eat! Beautifully maintained grass strip." - Submitted by Samuel.
Got Comments? - Got Photos?

New Aviation Event - WWII Airborne Demonstration Team's Open Hangar Day!, Federick, OK - Saturday, Jul 26, 2014
WWII Paratroopers to Descend onto Frederick Army Air Field Again. Frederick will once again be "invaded" by WWII Paratroopers and other soldiers to conduct the summer Jump School and Open Hangar Day at the historical Frederick Army Air Field. The WWII Airborne Demonstration Team's Summer 2014 Open Hangar Day and Fly-In is set for Saturday, July 26th at the at the historic Frederick Army Airfield section of the Frederick Regional Airport, southeast of Frederick, Oklahoma 8:00 am to 3:00 pm. The event is free and open to the public. The World War II Airborne Demonstration Team extends a special invitation to all veterans of World War II to attend. The Open Hangar Day and Fly-In concludes the teams Summer Jump school, which will begin on July 19th, and includes students from all over the United States as well as other countries. Jump phase should begin on the afternoon of July 24nd for the students, and team members will be jumping throughout the entire week. During Open Hangar Day Throughout the day, military displays and memorabilia will be presented by the members of the WWII Airborne Demonstration Team, the US Army Air Defense Artillery Museum from Fort Sill, and the Tulsa Living History Association. Historic military vehicles will also be on display. In addition, instructors and students from the jump school will be on-hand to show off their equipment and answer questions about the Team. Airborne Jump Demonstrations are planned for that morning. The ride-along Airborne Experience will also be offered. Join as a Gold level Member and you will be entitled to a C-47 flight while it is ping paratroopers. Many WWII Veterans will be in attendance, who will be honored that afternoon at the wing pinning ceremony for the jump school students. Many members of the WWII Airborne Demonstration Team traveled to Normandy France in early June to take part in the 70th anniversary of the D-Day Allied invasion. The WWII Airborne Demonstration Team joined forces with the European based Round Canopy Parachute Team, as well as many other teams from various nations, to jump five consecutive days on six original zones that were used by WWII paratroopers to spearhead the Allied invasion of France. Most of these jumpers will be returning to Frederick to receive refresher training, and to prepare for the Team's trip to Southern France to commemorate the 70th Anniversary of "Operation Dragoon" in August, and then to Holland in September for the commemoration of "Operation Market Garden". The Team plans to mark the 70th Anniversary of the many jumps during Open Hangar Day, and during the wing pinning ceremony. Please the Team's website at www.wwiiadt.org for more detailed information, and a schedule of events. For more information, contact: Sharon Bennett, WWII Airborne Demonstration Team. Phone: 580-305-2289 E-mail: pr@wwiiadt.org. ADT website: wwiiadt.org. In addition to the Airborne Team's activities, all pilots are invited to attend the fly-in, breakfast will be provided for fly-in participants. Lunch, drinks and snacks will be available at the event. For Detailed Frederick Airport Info:http://www.airnav.com/airport/KFDR Tie-downs are available, please be sure to bring your own ropes or chocks as appropriate.

New Aviation Event - Halloween Party at Burke Lakefront Airport, Cleveland, OH - Friday, Oct 24, 2014
Oct 24 – Halloween Party 6-8pm. Come on over to the museum for a spook-tacular night! Enjoy games, activities, goodie bags, a photo back for goofy photos, a Halloween movie, and an appearance by Struts, our eagle mascot! Enter the costume contest and win prizes! A $5 charge covers costs of pizza, scary snacks, goodie bags, paper airplane making, face painting, and more! RSVP and prepayment required. 216.623.1111.


New Aviation Event - 4th Annual Fly-In/Drive-In Breakfast, Seneca Falls, NY - Sunday, Sep 7, 2014
All you can eat eggs, pancakes, sausage, coffee, tea, milk. Adults: $8. Child age 10 and under: $4. Under age 4: Free. 8AM to 12 Noon. Airplane and helicopter rides at additional cost. Event sponsored by the Waterloo Rotary Club and Finger Lakes Area Pilots. Unicom: 122.8 AWOS: 120.0 Fuel: 100LL and Jet-A.

New Aviation Event - French Toast Breakfast, East Windsor, CT - Sunday, Jul 20, 2014
We will have a breakfast featuring French toast with strawberries and whipped cream, along with sausage, scrambled eggs, fruit cup, with orange juice, milk and coffee. It's all you can eat for a $6.00 donation. 8:30 - 11:00 AM. Sponsored by EAA Chapter 1310


New Aviation Event - B-17, WWII Bomber Aluminum Overcast visiting Southeast NC, Southport, NC - Friday - Sunday, Oct 17-19, 2014
EAA's B-17, only 1 of 3 of these WWII aircraft still touring, is coming to Oak Island, NC. Walk through tour price $10/person or $20 per family. Active Duty military and veterans are free. See www.b17.org for flight prices. Hosted by EAA 939.


New Aviation Event - Dinner with a Slice of History – Cleveland's Role in Aviation History, Cleveland, OH - Friday, Nov 7, 2014
Nov 7 – Dinner with a Slice of History – Cleveland's Role in Aviation History 6:30pm From props to landing gear and everything in between, Cleveland was setting the standard in aviation for the entire country. Join us as local historian Bill Meixner shares with us some of the innovations that have their beginnings in Cleveland. Dinner will be served at 6:30 pm with the presentation to follow. Tickets are $15 non-members, $13 members. Please RSVP soon- seats are limited! 216-623-1111.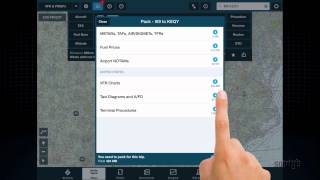 ForeFlight Tip for pilots: Pack Downloads - YouTube - Sporty's Pilot Shop
This clip originally appeared in Sporty's Flying with ForeFlight training course, available as an app in the app store and as an online course. More information here: http://www.sportys.com/PilotShop/product/17994

Pilot Destination Update - Los Banos Municipal Airport, Los Banos, CA
"A short for Los Banos - KLSN - There is a new eatery, only about four minutes from the A/C tiedown to the BLACK BEAR RESTAURANT on the former Ryans Place location. Out of the Airport Gate to your right along the Highway to the West. Beware of fast traffic, that will not slow down for Pilots. Good food and servers, is very busy most of the day. LA Esperanza Supermarket has hot Mexican food niche inside. Formerly Town and Country. Enjoy the flight and the food." - Submitted by Joe Whoo.
Got Comments? - Got Photos?

Pilot Destination Update - Hollister Municipal Airport, Hollister, CA
"A short for CVH - Hollister,CA. Airport. Currently no Restaurant on the Airfield. The best alternative Eatery is the Wizzard Café, open Monday thru Saturday across the highway thru the fence, just a few hundred feet for your two feet,in the white CORBIN Bldg, good Food at reasonable prices. Open for Breakfast and Lunch." - Submitted by Joe whoo.
Got Comments? - Got Photos?


New Aviation Event - Flights of Our Fathers Fly In, Terrell, TX - Saturday, Sep 20, 2014
Static and Dynamic Displays of Military Aircraft, Warbirds, Vintage and New Aircraft, Texas Heatwave Aerobatics Team: Radio Controlled Airplanes. Guest Speakers and Book Signings, Kids Zone, Museum Tours, Pancake Breakfast, BBQ Cook-off, Food Court.

New Aviation Event - Wings Over Waukesha Airshow, Waukesha, WI - Saturday - Sunday, Aug 23-24, 2014
Mark your calendar for the return of the Wings over Waukesha Air Show August 23-24, 2014, at Waukesha County Airport. This year's air show will feature female national aerobatics pilots, Patty Wagstaff and Susan Dacy, who remain rare women in an industry dominated by men and facing future shortages of pilots, mechanics and air traffic controllers. The B-17 and many other vintage and contemporary military and civilian aircraft will join the show. Guests can meet the pilots and hear their inspiring stories, view the aircraft up-close on the ground and enjoy many other activities on the grounds. Tickets are $15 for adults, $7 for children ages 6 – 17, free for children 5 and under. Advance tickets are now available at the discounted price of $12 per adult through the Wings over Waukesha website at www.wingsoverwaukesha.com.

New Aviation Event - WOW - Wings of Women for high school women interested in STEM carrers, Cleveland, OH - Saturday, Oct 11, 2014
WOW- Wings of Women 2014. WOW - Calling women mentors and students! This years WOW - Wings of Women - Conference will take place Oct. 11, 2014. This is an exciting Saturday conference for young women in high school interested in going into STEM related career fields. They will get to speak with professional women mentors to learn how they got to where they are today and what they need to do to succeed. Participants will receive breakfast, lunch, a swag bag, and a t-shirt for attending, plus a unique and enlightening experience. We are offering conference scholarships will cover the $20 registration fee to only 10 girls! When you apply, submit a letter as to why you want to attend the conference and why you should receive the scholarship. We are also in need of professional women mentors for the day. Both students and mentors can apply online by clicking here under the Oct. 11 event listing. If you have any questions please contact the museum.


New Aviation Event - Virginia Highlands Air Show and Fly-In, Abingdon, VA - Saturday, Sep 27, 2014
Air show with full aerobatics and fly-In. Static displays, fly-bys, sky-diving and entertainment. $15,00 for adults, fly-ins no charge. Fuel discounts on day of event. Free parking and camping available on airport property. Gates open at 10:00 a.m. Flying begins at noon. No flight arrivals permitted after 12:00 noon More details call Mike at 423-391-0422 or Mickey 276628-2909. vahighlandsairport.com


New Aviation Event - 29th Annual Simsbury Fly-In and Car Show, Simsbury, CT - Sunday, Sep 14, 2014
The largest event of its kind in the Northeast, featuring displays of over 700 airplanes and autos of virtually every type and vintage, plus more than 100 activities and exhibitors. Complete event info at www.simsburyflyin.com. NOTE - FAA arrival procedures must be followed, as described on our website.

New Aviation Event - Citabria 50th Anniversary at AirVenture Oshkosh, Watertown, WI - Saturday - Friday, Jul 26, 2014 - Aug 1, 2014
This year-long celebration begins at Watertown, WI where we will depart for AirVenture Oshkosh, where we hope to gather as many Citabrias as possible. We have received special parking courtesy of EAA they made these arrangements in spite of a late start and their already bustling workload if we arrive together. Member or not, you are welcome although your support is appreciated. Once at Oshkosh, a special event Prop Card and button will be given to those who participate. Beginning Monday morning 7/28 Visit with us at our display at the Vintage Aircraft Type Club Hangar, where we will have more information regarding the week's activities. Among these will be: Display of Citabria serial number 1 nearby. Ballots and plaques for the Best Citabria in two categories: Vintage 1964-1970 and Post-1970 Bellanca and American Champion-built. Celebratory buttons designed for this specific event. More cool Citabria stuff. Forum schedule. more... Join us in celebrating the 50th Anniversary of the Citabria.

New Aviation Event - Willits Airport Day Sixties Fly-In, Willits, CA - Saturday, Sep 13, 2014
The 2014 Willits Airport Day Sixties Fly-In celebrates the 50th anniversary of Ells Field with food, exhibits, historic aircraft, classic cars, airplane and helicopter rides, and sixties music. Fun for everyone!
*
Previous Updates and Fun Places To Fly - Check our Archive
Advertise with us!

| | | |
| --- | --- | --- |
| | The RAM yoke clamp mount for the Apple iPad will fit rails from 0.625" to a maximum of 1.25". The 1" rubber ball is positioned at a right angle to the plane of the mount so when connected to a rail, the ball sits parallel to the rail. | |

| | | |
| --- | --- | --- |
| | We are a Wholesaler of aviation related gift items. We do not sell to the general public. If you are a bonafide retail outlet or an organization acting as a retail outlet, come by our website and request one of our catalogs. | |

| | | |
| --- | --- | --- |
| | This Low Flying Aircraft metal sign measures 12 inches by 12 inches and weighs in at 1 lb(s). This metal sign is hand made in the USA using heavy gauge american steel and a process known as sublimation, where the image is baked into a powder coating for a durable and long lasting finish. | |
All Aviation Events and Places To Fly listed are provided by the general public. FunPlacesToFly.com and OpenAirNet Inc. shall not be held liable for false or inaccurate listings, financial loss, damages or injury. If you decide to fly your aircraft into one of the locations listed on this website, you do so at your own risk. Always call ahead to confirm any information listed and the existence of the destination or event. Any information displayed may not be accurate or current and should not be considered valid for navigation, flight planning, or for use in flight. Please consult official publications for current and correct information. Please read our Disclaimer.