Welcome to FunPlacesToFly.com!
All gassed up and no place to go? We have an ever growing list of Fun Places to Fly and Aviation Events, provided by pilots like you who love aviation.
Share on:

Start receiving our weekly Newsletter about upcoming Aviation Events and Great Places to Fly that are in and around your Home State! PLUS individual emails about new Events and Great Destinations as they are added to our database, according to your favorite selected states.


The Latest Updates!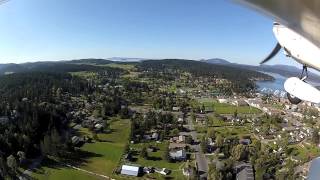 News Release - Friday Harbor Airport's New Pilot Welcome Center - FunPlacesToFly.com
Friday Harbor Airport is pleased to announce the opening of the new Pilot Welcome Center in the northeast corner of the airport next to the guest tie down area. Like many small airports, Friday Harbor Airport lacked a facility to welcome pilots to our beautiful community.

Pilot Destination Update - Heaven's Landing, Clayton, GA
"The perfect recreational plane at the perfect recreational fly-in community! Join us for three days of flying fun and pilot camaraderie where there is always something fun to do for the entire family. Explore Heaven's Landing from the perfect aerial platform, the Air Cam! If you've never had the absolute pleasure of flying in an Air Cam, this is your golden opportunity! Spend a day, or spend the entire weekend. Either way you'll be sure to enjoy. Don't own an Air Cam? No worries! Any and all aircraft are welcome for this event. At Heaven's Landing we don't discriminate, we elaborate! Come join us for the party! : :" - Submitted by Mike Ciochetti.
Got Comments? - Got Photos?

New Pilot Destination Added - Air Classics Museum of Aviation, Sugar Grove, IL
"Air Classics is an aviation museum located at Aurora Municipal Airport - ARR where the aircraft actually fly. You can sit in an A-7 that flew in the Gulf War and climb into the pilot's seat of a UH-1 Huey helicopter. The museum's collection includes aircraft, vehicles, uniforms and other aviation memorabilia from the 1930s to the present time. General Admission: Saturday and Sunday 10:00 A.M. - 3:00 P.M. Organized Tours: Please call to make an appointment. Closed Major Holidays." - Submitted by Chuck Newell.
Got Comments?

New Aviation Event - Mansfield Airport Day, Mansfield, OH - Saturday, Jul 5, 2014
Please join us for the 5th annual Mansfield Airport Day and Car Show on Saturday July 5, 2014 from 8 to 4. Free Admission and Free Parking. Come see Aircraft Fly in, Military Civilian Aircraft displays, Car Show, Kids Area, and Exhibits. Food and Airplane rides available for purchase. Young Eagles from noon to 2pm. Come see National Guard aircraft and Red Horse construction equipment. ADS-B / Avionics program for pilots with FAA Wings credit at 0930 in the Subway. Located at Mansfield Lahm Airport KMFD, 2000 Harrington Memorial Road. For more details go to www.MansfieldAirportDay.com Rain date is Sunday July 6, 2013. Sponsored by City of Mansfield, EAA 148, and Mansfield Aviation Club.

New Aviation Event - Lest We Forget, Benton Harbor, MI - Friday - Sunday, Jun 20-22, 2014
WWII, Korean and Vietnam re-enactments. Normandy style beach landing and battle off Lake Michigan in nearby St. Joseph. Paratrooper from C47 and battle for the airport. Vietnam style Huey rescue. Weekend long event. Official fly-in Sunday morning. Young Eagle rides. Food available all weekend.


New Aviation Event - FLY-IN, ASHEBORO, NC - Saturday, Jun 7, 2014
FLY-IN FEATURING A P-51 AND OTHER AIRCRAFT AND HOT RODS, MILITARY EQUIPMENT, REINACTORS. ADMIT $5.00 FOOD VENDORS ,BOUNCIE HOUSE AND MORE...


New Aviation Event - Gratiot Airport Dawn Patrol, Alma, MI - Sunday, May 18, 2014
Pancakes, Sausage, Scrambled Eggs, Hashbrowns, OJ, Milk, Coffee Donut $7 Just coffee or Milk and Donut $3.50 Children Under 12 $4.00


New Aviation Event - Fly-in Lunch, Iron Station, NC - Saturday, Apr 26, 2014
Fly-in and enjoy a FREE hamburger / hotdog on Saturday, April 26th from 11:00am to 2:00pm.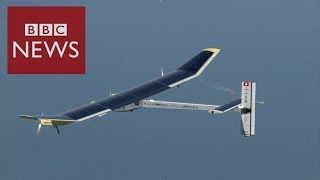 Is this the 'greenest' aircraft ever? BBC News - YouTube.com - BBC News
This plane here is totally solar powered. Its wingspan is wider than a jumbo jet, but it only weighs as much as an average family car. And next year, the plan is to fly the Solar Impulse around the world. Our science reporter Victoria Gill has been looking at the new aircraft.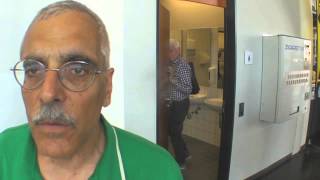 Top Ten Reasons You Know You're at Aero - YouTube.com - AVweb
Yeah, Aero is way different than AirVenture or Sun 'n Fun, and that alone makes it worth attending at least once. In this video, AVweb's Paul Bertorelli takes a humorous look at how you know you're in Friedrichshafen and not Oshkosh.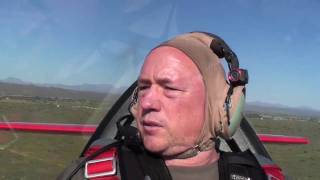 MX2 Aerobatics - View From The Cockpit - YouTube.com - Mark Hensman
Aerobatics - View From The Cockpit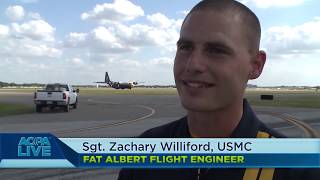 Flying Fat Albert - YouTube.com - AOPALive
The Blue Angel's support C130 is a wild ride itself. Come along for a maximum performance flight in Fat Albert.

New Aviation Event - Annual Tomato Drop, Jacksonville, TX - Saturday, Jun 14, 2014
TOMATO BOMBERS !!! You know you want to do this !!. The Annual Tomato Drop sponsored by the Cherokee County Pilots Association will be June 14th beginning at 10 AM. Trophies and prizes for pilots and tomatodiers closest to the bulls-eye. A mandatory pilot's briefing will be held at 9:30 AM for all those participating. Lunch will be served about 11 AM. Lots of planes and other displays to look at.A limited number of slots available for "bombers" so please RSVP to Jack Porbeck at 903 312 4810 or skyhawkjack@suddenlink.net to reserve your spot. Come early and enjoy some high class hangar flyin' and lyin'.

New Aviation Event - EMU Pancake Fly-In, Ypsilanti, MI - Saturday, May 17, 2014
Join Eastern Michigan University Aviation for our annual pancake fly-in. Presented by Alpha Eta Rho, The professional international aviation fraternity. Unique aircraft, exhibitors, demos, raffles, and much much more. All you can eat pancakes, sausage, orange juice and coffee for $7 a person. Free airplane parking on the West Ramp.

New Aviation Event - Armed Forces Celebration Wings Wheels, Saint George, UT - Friday - Saturday, May 16-17, 2014
The new St.George Airport is the home of the WESTERN SKY AVIATION WARBIRD MUSEUM. They will be hosting their Free/open to the public annual Armed Forces Celebration Wings Wheels event Saturday, May 17th from 10 am to 4 pm. at the Museum's two airport hangers. The aircraft and automotive displays will feature vintage fighter aircraft, custom/classic cars and motorcycles. The Museum will be open where you can see military aircraft memorabilia dating from 1940 to current. You can also slip into the cockpit of a Korean War Mig 15 and be photographed. Aircraft rides will be available along with a variety of vendor booths and good food. The night before, Friday, May 16th WWII style Hanger Dance with a live 18 piece swing band. The Red Rock Swing Dance Group will be there in period dress and performing the old style swing dance moves.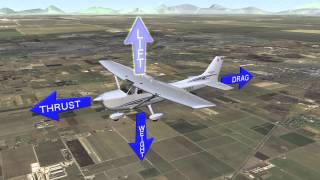 The Aviators 4: Tip of the Week 401 - Forces - YouTube.com - TheAviatorsTV
Season 4's Tips of the Week are brought to you by Sporty's Pilot Shop (the Official Pilot Shop of The Aviators) and feature special guest star, air show announcer Rob Reider.

New Aviation Event - Pancake Breakfast, East Windsor, CT - Saturday, Apr 26, 2014
Enjoy hot pancakes, sausage, scrambled eggs, along with fruit cup, juice, milk and coffee. All you can eat for a $6.00 donation. 8:30 - 11:00 AM Sponsored by EAA Chapter 1310

New Photo Added - Penns Cave Airport, Centre Hall, PA
"Hangar mural at Penn's Cave Airport." - Submitted by John Shaffer.
Got Comments? - Got Photos?

Pilot Destination Update - Vintage Flying Museum, Ft Worth, TX
"The B-17 may be gone, but the hanger is packed with flying aircraft from the tiny Culver Cadet up to a B-29. Park your aircraft free in front the the museum." - Submitted by Sammy.
Got Comments? - Got Photos?


New Aviation Event - 8th Annual Indy Exec Open House, Fly-In, and Air Race supporting Down Syndrome Indiana, Zionsville, IN - Wednesday, Jul 9, 2014
Please join us this year at one of our most exciting events that truly makes a difference for those living with Down Syndrome. For the first time this event will be combined with the 2014 Indy Air Race which will add a great deal of fun and entertainment to an already wonderful event.
*
Previous Updates and Fun Places To Fly - Check our Archive
Advertise with us!

| | | |
| --- | --- | --- |
| | Brightline B25 Carry All FLEX System Bag. Designed for pilots who need a Pilot Flight Bag to carry the max multiple overnight items. | |

| | | |
| --- | --- | --- |
| | We Have The Pilot Supplies You're Looking For! | |

| | | |
| --- | --- | --- |
| | We are proud to offer over 150 items of interest to pilots and builders of experimental and general aviation aircraft. All of them have been personally tested on our own planes to make certain that they do a great job at a great value. | |
All Aviation Events and Places To Fly listed are provided by the general public. FunPlacesToFly.com and OpenAirNet Inc. shall not be held liable for false or inaccurate listings, financial loss, damages or injury. If you decide to fly your aircraft into one of the locations listed on this website, you do so at your own risk. Always call ahead to confirm any information listed and the existence of the destination or event. Any information displayed may not be accurate or current and should not be considered valid for navigation, flight planning, or for use in flight. Please consult official publications for current and correct information. Please read our Disclaimer.