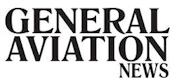 GENERAL AVIATION NEWS
A newspaper for the aviation masses. The General Aviation News website serves up aviation news for pilots and aircraft owners primarily at the grass roots level. In print twice a month, General Aviation News reports aviation news, information and entertainment rarely read elsewhere.
CORPUS CHRISTI, Texas – A test-site research team from the Lone Star Unmanned Aircraft Systems Center of Excellence & Innovation (LSUASC) at Texas A&M University-Corpus Christi has been dispatched to Wimberley, Texas, to conduct low-altitude research flights in the wake of devastating flooding. The town of Wimberley, about 30 miles southwest of Austin, was struck ...
Read More!
WASHINGTON. D.C. — The Pillsbury law firm, which formed a multidisciplinary team focused on Remotely Piloted Aircraft (RPA) in March 2014, has launched its new RPA law blog. The team is comprised of lawyers across multiple practices and sectors, including Aviation, International Trade, Energy, Real Estate, M&A, Intellectual Property, Communications, Privacy, Global Security, Finance, Technology, Insurance and Government Contracts, ...
Read More!
Piper Aircraft has collaborated with watchmaker Raymond Weil to introduce the company's first-ever pilot watch, the freelancer Piper. The 45mm inaugural pilot watch is made of titanium and stainless steel, featuring a mechanical self-winding chronograph movement with date and GMT functions. The minute and hour hands are crafted in blue, mimicking the rotor blades of ...
Read More!
The student pilot reported that he was flying the Piper Cherokee from Oklahoma to California in pursuit of employment opportunities. During that trip, he attempted a night landing at an unattended airport in Cottonwood, Ariz., in order to refuel. During the approach he was unable to activate the runway lights via radio. He made one ...
Read More!
Prepare to be jealous. Very jealous. BackcountryPilot.org founder Zane Jacobson enjoyed a multi-day trip into the wilds of the Wrangell Mountains in Alaska. What'd he get all of us? A video. A very beautiful video (and story). Want more of the story, there's more at BackcountryPilot.org. Do go live vicariously through Zane.
Dale Andersen sent in this photo, explaining: "My buddy and I took our Aeronca Champs out to the backcountry to enjoy the blooming of wild flowers. After we landed on this dirt road the peace and serenity was unbelievable. The only sounds were a Mellowlark speaking to the morning sun."
Score one for Solberg-Hunterdon Airport (KN51), the embattled privately owned, public use airport in Readington Township, New Jersey. On May 4, Superior Court Judge Paul W. Armstrong dismissed the township's lawsuit to acquire the development rights to the airport through eminent domain. Eminent domain is the power to take private property for public use by ...
Read More!
SAN MARCOS, Texas — Due to the recent hardships faced by the local community after the Hays County flooding during Memorial Day weekend, Redbird Skyport will postpone the Bluebonnet Fly-In at San Marcos Airport. The fly-in, originally scheduled for this Saturday, May 30, will now take place on June 6. To support those affected by ...
Read More!
WASHINGTON, D.C. —  The National Transportation Safety Board has issued a Safety Alert urging pilots to "vigilantly look out for other aircraft and to make their own presence known." Officials note the board has investigated numerous general aviation accidents in which pilots operating near one another did not maintain adequate visual lookout and failed to ...
Read More!
Country singer/songwriter Dierks Bentley has been named an honorary co-chairman of the Aircraft Owners and Pilots Association's (AOPA) charitable circle, the Hat in The Ring Society. The country singer, who earned his private pilot's license at the age of 19, speaks often about how flying has made his busy schedule more flexible. "My fans know that ...
Read More!