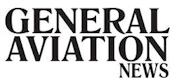 GENERAL AVIATION NEWS
A newspaper for the aviation masses. The General Aviation News website serves up aviation news for pilots and aircraft owners primarily at the grass roots level. In print twice a month, General Aviation News reports aviation news, information and entertainment rarely read elsewhere.
OSHKOSH, Wis. – Phillips 66 Aviation revealed that this is year's Leadership Award winner is Fred Stadler, a year-round volunteer for the Experimental Aircraft Association (EAA). Stadler reached an unprecedented milestone in July when he flew his 6,000th Young Eagle, setting the record for the most volunteer flights by any pilot participant in the program. "Fred's ...
Read More!
WASHINGTON, D.C. – Responding to recent incidents in which remotely piloted aircraft (RPA) — also known as drones and unmanned aircraft systems (UAS) — interfered with manned aircraft involved in fighting fires, the FAA is supporting the U.S. Department of the Interior and U.S. Forest Service in a simple message to drone operators: If you fly, we can't. "Flying a drone ...
Read More!
The National Agricultural Aviation Association (NAAA) has launched a remotely piloted aircraft (RPA) safety campaign to raise awareness and prevent accidents between RPA operators and low-altitude manned aircraft. The first public outreach tool in the safety campaign is a "safety stuffer" designed for aerial applicators to share with farmers and other agricultural stakeholders. Sized to fit into ...
Read More!
Avidyne reported at AirVenture that a new version of its IFD-Series FMS/GPS/NAV/COM PC-based Simulator software is now available for download from the company's website. The updated PC simulator provides fully-interactive, free-play demonstration capability for the IFD540 and IFD440, including all the features of the recently-certified Release 10.1 IFD software."In addition to adding all the other R10.1 features, this ...
Read More!
L-3 Aviation Products reported at AirVenture that its Lynx NGT-9000 MultiLink Surveillance System (MSS) models are now included in the Approved Model List Supplemental Type Certificate (AML STC) for a large number of aircraft. With STC SA02444AK, the Lynx NGT-9000 joins the Lynx NGT-2000/2500 as a certified solution that enables General Aviation aircraft to comply with the ...
Read More!
MT-Propeller Entwicklung GmbH has received an FAA STC for the next generation Quiet Fan Jet 5-blade scimitar composite propeller MTV-27-1-E-C-F-R(P)/CFR203-58d on the PA-46-310P/-350P Jet Prop powered by PT6A-21/-34/-35. The Installation is already certified by EASA. MT-Propeller Vice President Martin Albrecht says, according to the certification flight tests, the new 5-blade propeller installation provides performance improvement with 10% ...
Read More!
The pilot reported that as the Flight Design CTLS was descending through about 4,700 feet mean sea level, the engine began to run rough and eventually lost complete power. He noted that the engine monitoring system indicated that there was no fuel flow, despite the airplane having about 16 gallons of automobile fuel still available. Several ...
Read More!
Rafael Cortes sent in these photos taken while flying over Culebra Island in Puerto Rico. "One of the World's Top 5 Beaches as ranked by CNN Travel is Flamenco Beach, which can be seen in one of the pictures," he notes. "Did I mention this is where I am originally from?! That's where I had ...
Read More!
By WILLIAM HAMILTON Satire: Just as your aircraft reaches, say, 30,000 feet on your airline flight, say, from Denver to Chicago, the Captain says, "Hello. This is your Captain speaking. Welcome aboard Olympic Mountain General Airlines. Okay, I know some of you call us: OMG! But, seriously, passengers who studied urban sociology in college may ...
Read More!
About 550,000 people attended this year's AirVenture, a jump of about 2% from last year, according to officials with the Experimental Aircraft Association. "AirVenture 2015 exceeded our expectations on many levels," noted EAA Chairman Jack Pelton. "With near-perfect weather for the entire event, we filled Wittman Regional Airport and our convention site to capacity with ...
Read More!