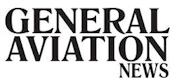 GENERAL AVIATION NEWS
A newspaper for the aviation masses. The General Aviation News website serves up aviation news for pilots and aircraft owners primarily at the grass roots level. In print twice a month, General Aviation News reports aviation news, information and entertainment rarely read elsewhere.
GlobalAir.com blogger Sarina Houston's latest post about preflight tasks notes that general aviation pilots going on a familiar flights often do a preflight that's "quick and dirty," sometimes including only a brief check of weather and a quick walk-around of the aircraft. But there are required items in a preflight — familiar with the acronym ...
Read More!
Viking Air Limited, of Sidney, British Columbia, has added Wipaire's Leesburg, Florida, service center to its network of Viking Factory Endorsed Service Centers (FESC). The Leesburg service center joins Wipaire's headquarters facility in South Saint Paul, Minnesota, as a Viking FESC. "Wipaire and Viking have had a longstanding relationship, working together to support the Twin ...
Read More!
WASHINGTON, D.C. — FAA Administrator Michael Huerta will testify at an Aviation Subcommittee hearing next week on reauthorization of the agency. The current FAA law expires at the end of September, and a new authorization is one of the Transportation and Infrastructure Committee's highest priorities this year, according to officials. Huerta, the only scheduled witness for ...
Read More!
Blackhawk Modifications of Waco, Texas, has named Executive Flight Training of Beaufort, South Carolina, as an authorized pilot training center for all twin-engine aircraft models for which Blackhawk provides PT6A engine upgrades. Executive Flight Training will be able to teach pilots how to get the most from their new PT6A engine upgrades with instruction specifically oriented ...
Read More!
BIG LAKE, ALASKA — The engineering group of Airforms has released an online presentation, "Using DERs for Major Repairs and Alterations." The presentation, available on the newsfeed at the company's website, outlines how aircraft owners, operators and maintainers can take advantage of the FAA Designated Engineering Representative (DER) system in support of improved safety and reduced operating cost. ...
Read More!
EAA AVIATION CENTER, OSHKOSH, Wisconsin — The latest innovations, including unmanned aircraft demonstrations, are part of the new Aviation Gateway Park that makes its debut at this year's EAA AirVenture Oshkosh 2015, July 20-26 at Wittman Regional Airport in Oshkosh. The new area builds upon the success of the College Park innovation/education area launched in 2014, ...
Read More!
A lineman who spoke with the pilot/owner of the Beech E90 before its departure from Casa Grande Airport in Arizona reported that the pilot stated that he and a flight instructor were going out to practice for about an hour. The owner had a multiengine certificate and approximately 663 hours in multiengine airplanes, including 112 ...
Read More!
Nancy Bradshaw sent in this photo, simply title: "Found it, Chicken Strip! Pretty epic flying adventure." It's the second Chicken Strip photo we've gotten from readers.
You don't need to own a vintage airplane to benefit from a type club or aircraft owners group. The owners of Flight Design CTs have one of the most active owners associations in existence — not bad for an airplane that arrived in the United States on the first wave of the Light-Sport Aircraft (LSA) rule ...
Read More!
WASHINGTON, D.C. — The Pilot's Bill of Rights 2 (PBOR 2), legislation to expand the third class medical exemption for recreational pilots and broaden the protections provided in the original Pilot's Bill of Rights signed into law in 2012, was introduced today in both the Senate and the House of Representatives. U.S. Senator Jim Inhofe ...
Read More!